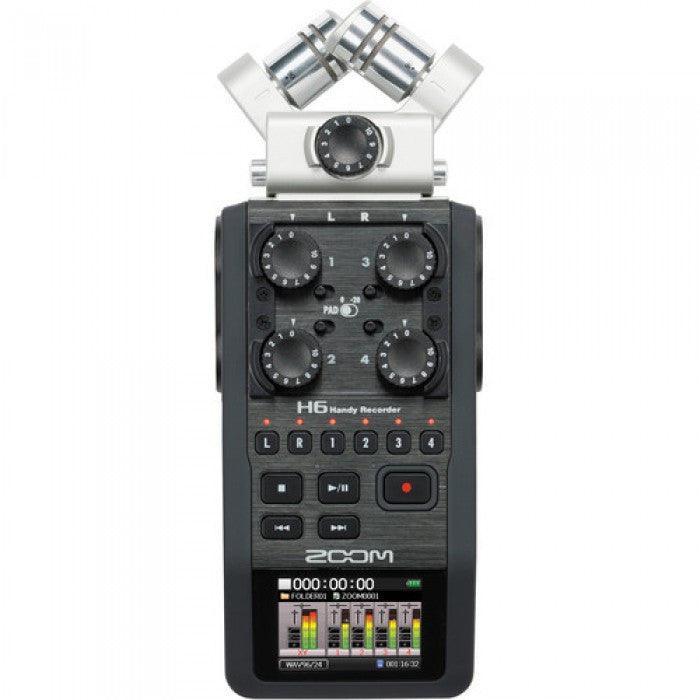 ZOOM
Zoom H6 Handy Recorder with Interchangeable Microphone جهاز تسجيل
---
H6 Handy from Zoom is a portable handheld recorder and USB audio interface that features an interchangeable microphone system. The recorder ships with both XY and mid-side microphone modules, foam windscreen, 2GB SD card, four AA batteries, USB cable, Cubase LE and a hard carrying case. Optional module attachments can be purchased for expanded functionality.
The H6 Handy allows for versatile recording techniques, giving you several options right out of the box. The included XYH-6 XY microphone module is made up of two matched unidirectional condenser microphones and is intended for capturing accurate, phase-correct stereo audio. The module allows you to adjust the angle of the two mics to either 90 degrees, or for a wider stereo image, 120 degrees.
For situations that call for audio that allows for width control over your stereo image after it has been recorded, the XY module can be switched out for the MSH-6 mid-side stereo microphone module. Contrary to the appearance of the capsule, the mid-side module actually contains two elements positioned on top of one another: a unidirectional mic which faces forward (mid), and a bi-directional mic set perpendicular to it (side). In addition to providing you the ability to adjust the width of your stereo audio after it has been recorded, MS recording also provides true mono compatibility, a factor that comes into play in situations such as television production.
In addition, the H6 is equipped with four XLR/TRS combo inputs for connecting external mic/line sources such as microphones or mixers. All four inputs and each of the mic modules are equipped with their own preamps with dedicated gain knobs that are easily accessible whether you have the unit mounted to your camera, or strapped over your shoulder. Also, each of the four combo inputs has its own -20dB pad.
The recorder allows you to record up to six channels at once and stores them to SDXC memory cards up to 128GB in size. It also features a backup-record option that tracks a duplicate of the left and right channels with -12db input gain. This means that if you find that you have tracked your main audio too loud and that distortion has occurred in your audio, you will have a backup stereo mix with 12 db more headroom as a fail-safe. The unit also doubles as a 6-in/2-out USB audio interface and it can be used with your computer running the included Cubase LE or other DAW software.
Main Features
Large full-color angled LCD display that allows visibility whether mounted on a camera or strapped over shoulder
XYH-6 X/Y capsule also provides a secondary input for connecting an external mic or line level signal via stereo 1/8" mini jack
Optional wired controllers for remote transport controls
Optional hairy windscreen offers improved wind diffusion
Built-in speaker, located on the underside of the unit, for fast monophonic monitoring of the recorded signal without the need to make any connections
Interchangeable input capsules that can be swapped out as easily as the lens of a camera
Six-track simultaneous recording
Four mic/line inputs with XLR/TRS combo connectors
Physical gain control knobs and -20dB pads for each input
Phantom power for all main inputs: +12/+24/+48V
Records directly to SD, SDHC and SDXC cards up to 128GB
Up to 24-bit/96kHz audio in BWF-compliant WAV or a variety of MP3 formats
Auto-record, pre-record and backup-record functions
Multitrack to stereo internal mixdown
Independent monitor and playback mixes
Graphical VU meters
Voice memo and up to 99 marks per recording
Overdubbing, up to 99 takes
Built-in effects, including low-cut filtering, compression and limiting
Onboard MS decoding
Normalize, Divide and Trim editing
Chromatic tuner and metronome
Loop Playback with user-defined start and stop points
Variable playback speed, from 50% to 150%
Variable pitch per track without affecting playback speed
USB port for data exchange to and from computer
Multichannel and stereo USB audio interface for PC/Mac/iPad
Camera strap mounts
Mounts directly to DSLR or camcorder with optional HS-01 Hot Shoe Mount adapter
Accepts standard AA alkaline or NiMH rechargeable batteries
Over 20 hours of operation with 4 AA alkaline batteries
SPECS:

Recorder
Recording Media SD card: 16 MB to 2 GB
SDHC card: 4 GB to 32 GB
SDXC card: 64 GB to 128 GB
Input Connections
4 x XLR/TRS combo jacks; XLR: Pin 2 hot; TRS: Tip hot
1x 1/8" stereo mini jack (XYH-6 MIC/LINE IN)
Input Gain
-∞ to 55.5 dB (PAD OFF)
-∞ to 35.5 dB (PAD ON)
Input Level -∞ to 46.5 dB (XYH-6 MIC/LINE IN)
Input Impedance 6.8 kΩ (INPUTS 1 to 4)
2 kΩ (XYH-6 MIC/LINE IN)
Maximum Input Level +22 dBu, PAD ON (INPUTS 1 to 4)
Phantom Power +12V /+24V /+48V, independent (INPUTS 1 to 4)
2.5V plug-in power, (XYH-6 MIC/LINE IN)
Equivalent Input Noise -120 dBu or less
Output Connections 1x 1/8" stereo mini jack (LINE OUT)
1x 1/8" stereo mini jack (PHONE OUT)
Output Level -10 dBu when output load impedance is 10 kΩ or more (LINE OUT)
20 W +20 W into 32 Ω load (PHONE OUT)
Built-in Speaker 400mw 8 Ω mono speaker
Recording Formats WAV, MP3
Sample Rate 44.1/48/96 kHz (WAV)
44.1 kHz (MP3)
Bit Depth 16, 24 (WAV)
Bit Rate 48/56/64/80/96/112/128/160/192/224/256/320 kbps (MP3)
Max Simultaneous Recording 8 (L/R + INPUT 1 to 4 + L/R backup), backup recording: -12dB lower than set L/R input gain (WAV)
-or-
2 (MP3)
Recording to SD Card With 2 GB card:
03:08:00 (44.1 kHz / 16-bit WAV)
34:43:00 (128 kbps MP3)
Display 2.0-inch full color LCD (320 x 240 pixels)
USB Port Mass Storage Class operation:
USB 2.0 high speed
-or-
Audio Interface operation, multi-track mode:
USB 2.0 high speed, multi-track or stereo modes
Power Requirements AA size (LR6) battery x 4
AC adapter: AD-17 (DC5V/1A/USB-type) (optional)
USB bus power
Battery Life: Over 20 hours (with alkaline battery, continuous recording)
Dimensions: 3 x 6 x 1.9" (77.8 x 152.8 x 47.8 mm)
Weight: 9.9 oz (280 g)

Microphone
Type XYH-6 X/Y: Unidirectional
MSH-6 MS: Unidirectional and bi-directional
Sensitivity XYH-6 X/Y: -41 dB, 1 kHz at 1 Pa
MSH-6 MS: 37 dB, 1 kHz at 1 Pa (unidirectional);
-39 dB, 1 kHz at 1 Pa (bi-directional)
Input Gain XYH-6 X/Y: -∞ to 46.5 dB
MSH-6 MS: -∞ to 42.5 dB
Maximum SPL XYH-6 X/Y: 136 dB SPL
MSH-6 MS: 120 dB SPL (unidirectional)
122 dB SPL (bi-directional)
Dimensions XYH-6 X/Y: 3.1 x 2.4 x 1.8" (78.9 x 60.2 x 45.2 mm)
MSH-6 MS: 2.3 x 2.66 x 1.65" (58 x 67.6 x 42.1 mm)
Weight XYH-6 X/Y: 4.6 oz (130 g)
MSH-6: 3 oz (85 g)

 

 
---
Share this Product
---
More from this collection