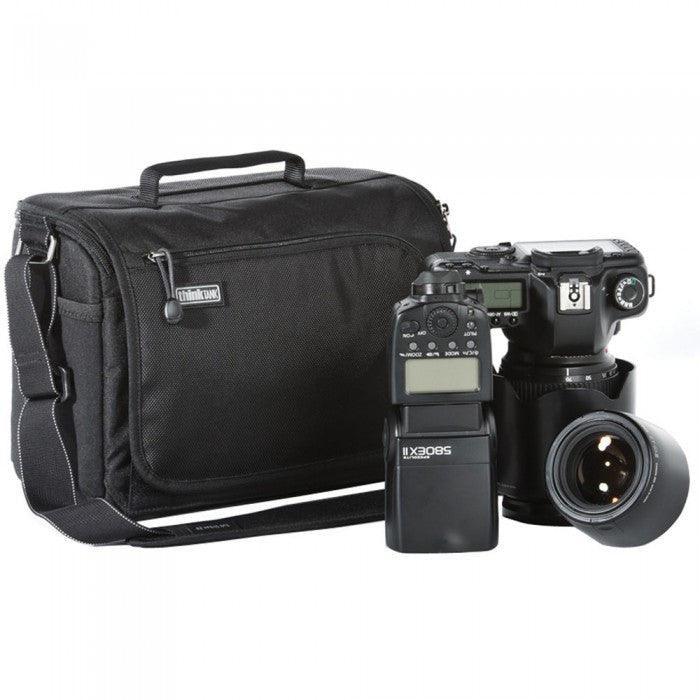 THINKTANK
Thinktank SubUrban Disguise 20
---
The blackåÊSub Urban Disguise 20 Shoulder BagåÊfromåÊThink TankåÊfeatures a compact design to hold your DSLR with 3 or 4 small/medium zooms or prime lenses. It can also hold four or five pro-sized flashes with extra room for radio triggers/receivers.
The bag contains a zippered front flap that opens away from your body. This not only provides rapid access to your gear but serves as a security feature since no one will be able to see inside the bag. Your camera is held facing down ready to be removed and used. There are plenty of pockets for accessories. The front organizer flap has enough room for your smartphone, memory cards, pens and similar sized items. The front flap contains a pocket underneath in which you can store batteries, maps or a camera manual. The zippered mesh pocket in the lid is sized to hold the included rain cover. Side stretch pockets are provided to hold water bottles. The pocket under the front flap can be latched open or touch fastened.
The bag is made from 1680D ballistic polyester, 600D brushed polyester, 420D high-density nylon and coated on the underside with polyurethane for added water-resistance. The interior has removable closed-cell foam dividers with polyester and a Velex liner. For maximum protection outdoors, a rain cover is included. The zippers are all YKK. The bag also contains a handy lanyard for your keys. Carry the Disguise 20 by its adjustable shoulder strap or top carry handle.
---
Share this Product