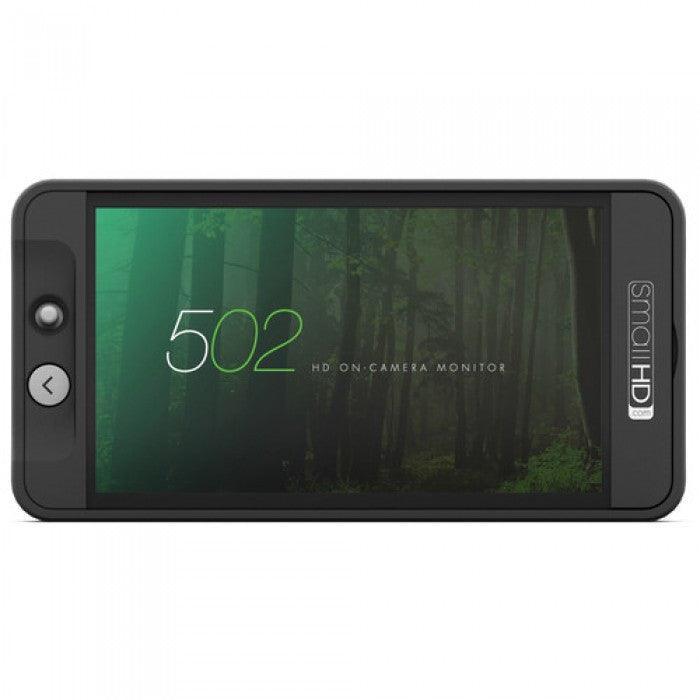 SmallHD
SmallHD 502 HDMI & SDI On-Camera Monitor
---
HIGHLIGHTS
5" 1920 x 1080, HDMI & SDI Monitor
441 Pixel Per Inch Display
3 Second Boot Time
Small HD's 502 HDMI & SDI On-Camera Monitor with 3D LUT Support brings full HD resolution to an on-camera monitor the size of a smartphone. The screen packs 441 pixels per inch, providing a sharp clear image on such a small screen. It features SDI & HDMI inputs and outputs with cross conversion and takes just 3 seconds to boot-up. The unit is 3/4" thick and weighs about 9 ounces, so it is light enough to mount to your camera without weighing you down.

Small HD has developed a menu system designed to be easy to navigate with the built-in joystick. Within the system is the Pages system, which allows you to create and store up to 8 preset configurations. You can easily see the effect of your configurations on the image, swiping between the configurations using the joystick. The 502 supports 3D LUTs, and you can save those as a configuration page as well. It is worth pointing out that you can apply a configuration page setting to either the monitor's screen, the output, or both at the same time. You can also assign a different configuration set up to the monitor's screen and the output.
The SmallHD 502 on-camera monitor features a Full HD, 1920x1080, LCD display, with a pixel density of 441 PPI. The 502's LCD display is able to produce 85% NTSC Color Gamut (greater than the REC. 709 color standard), rivaling the color capabilities of OLED technology.
The monitor supports HDMI and SDI inputs and outputs, and cross converts between them.
You can apply a 3D LUT to the monitor and still view your video in real-time.
SPECIFICATIONS::
SPECS:

Application
On-Camera
LCD Size
5" Diagonal
Resolution
1920 x 1080
Input and Output Connectors

Input


SDI
HDMI



Output


SDI
HDMI
---
Share this Product
---
More from this collection