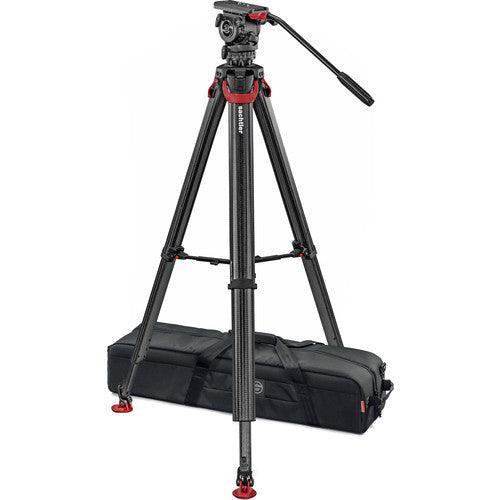 Sachtler
Sachtler System FSB 8 Fluid Head with Touch & Go Plate, Flowtech 75 Carbon Fiber Tripod with Mid-Level Spreader and Rubber Feet
---
FSB 8 Fluid Head with Touch & Go Plate
Head with Load Capacity of 2 to 20 Pounds
For Camcorders, DSLRs & Mirrorless
10-Step Counterbalance
This Sachtler System FSB 8 Fluid Head with Touch & Go Plate, Flowtech 75 Carbon Fiber Tripod with Mid-Level Spreader and Rubber Feet supports cameras and accessories weighing between 2 and 20 pounds, and is well suited for DSLRs, mirrorless cameras, and small- to medium-sized camcorders. The head features a sliding balance plate with 4.7" of adjustment to balance your camera, 10 steps of counterbalance adjustment and 3 steps plus a zero setting of independent pan and tilt drag. This amount of adjustability combines to give you precise control of your camera on the head, and the ability to easily tune your set up on a shot-by-shot basis.
The Flowtech legs are a lightweight set of tripod legs that can be used with or without the included mid-level spreader. The legs support up to 44 pounds, which means they can easily handle the weight of the FSB 8 Fluid Head with Touch & Go plate as well as your camera and accessories. The legs extend from approximately two feet to five feet and are extremely resistant to twisting when you pan. Additionally, each leg features a single locking lever near the top that allows you to open the leg sections to raise or lower the leg. The included padded carry bag is for storing or transporting the head and legs.
Sachtler 0705 FSB-8T Fluid Head
The Sachtler 0705 FSB-8T Fluid Head is a fluid head designed to work with the handheld size of DV, DVCAM, HVX and HDV camcorders. This head offers Sachtler's Touch and Go quick release with a sliding range of 60mm (2.7") and 10-step counterbalance.
Frictionless Leak-Proof Fluid Damping
Frictionless leak proof fluid damping with five levels of drag for perfect pictures while panning and tilting. Identical across both horizontal and vertical planes this system allows complete disengagement of drag for fast panning.
Quick Release
The FSB-8T features Sachtler's Touch and Go quick release plate. This plate offers a sliding range of 60mm / 4.7" while working with a 10-step counterbalance providing perfect balance across the weight capacity range.
FSB Cell Compatible
This head is compatible with lightweight and powerful FSB Power Cell.
Sachtler Flowtech 75 MS Carbon Fiber Tripod with Mid-Level Spreader and Rubber Feet
The Sachtler Flowtech 75 MS Carbon Fiber Tripod with Mid-Level Spreader and Rubber Feet eschews the common single or double carbon fiber tube design and instead has redesigned the shape of the legs for improved torsional strength. The legs work weigh just under 7 pounds yet they can support a payload of up to 44 pounds, and extend from a minimum height of 24" to a maximum height of 61" when using the included removable mid-level spreader. Each leg features a single clamping lever that locks and unlocks the sections.
Each leg extends or retracts independently from the other two, and when it is detached from the spreader each leg can pivot without affecting the other legs. This is especially useful when working on rough or uneven terrain. You can remove the spreader completely and lock each leg in one of three positions, so you can work without a spreader if you wish. This enables you to spread the legs extremely wide for low shots, while the tripod legs maintain their torsional stability. The dual spikes at the end of each leg provide extra grip when working on softer ground, and you can snap rubber feet onto the dual spikes for better grip when working on hard or delicate surfaces.
Features
Dual-stage, carbon fiber, 75mm bowl tripod
Weighs only 6.4 pounds but supports up to 44 pounds
The design and construction of the legs provide tremendous torsional stability. In other words, the legs resist twisting when you pan the tripod head.
The included mid-level spreader allows you to work on uneven terrain such as stairs or rocks while preventing the legs from flying apart. When using the mid-level spreader, you can use the included rubber feet to protect delicate surfaces from the tripod's foot spikes.
Each leg features a single clamping lever lock design at the top of the leg, near the 75mm bowl. This allows you to loosen all three leg sections from a single location, saving you time while reducing the wear and tear on your body as you don't have to bend down to loosen a leg lock at the bottom to lower or raise the legs.
The legs incorporate a locking mechanism that enables the legs to move completely freely, suitable when working with a spreader, or to lock at one of three angles, suitable for use when working without a spreader.
When closing the legs, there is room for the mid-level spreader to be folded up while remaining attached. The legs feature a magnetic locking system strong enough to hold them together during transport, but allows you to easily release the legs when you want to set them up.
Sachtler Padded Bag for flowtech 75 or TT Tripod with FSB Fluid Head
With dimensions of 36.6 x 7.9 x 9.1", this Padded Bag from Sachtler is designed specifically for carrying a flowtech 75 or TT tripod equipped with an FSB fluid head. It is made with a high-density 900D fabric, which is both flame retardant and water-resistant to help ensure that your equipment stays safe. Additionally, layers of both open-cell and closed-cell foam are used in the construction to protect your gear against small bumps and shocks.
The bag opens via a full-length zipper found at the top, which allows for easy access while shooting. For transport, two straps on each side can be connected to an integrated handgrip for easy carrying. There are also small handles on each side of the bag where the zipper ends, and right next to them are D-rings that can be used to connect an optional shoulder strap. Finally, a clear plastic window on the outside allows you to insert a tag with your name or phone number for easy identification when travelling.
Padded bag with dimensions of 36.6 x 7.9 x 9.1", designed for carrying a flowtech 75 or TT tripod with an FSB fluid head
900D water-resistant fabric on the exterior, with layers of foam to help cushion gear against bumps
Full-length zipper allows for easy access to the interior compartment
Connecting hand straps, side handles, and D-rings available for transport
Clear plastic window on one of the sides allows you to insert a name tag for easy identification
---
Share this Product