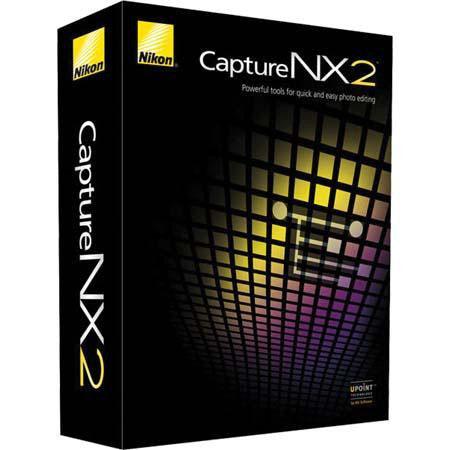 Nikon
Nikon Capture NX2 Photo Editing Software, Full Version, for Macintosh & Windows
---
bout the Nikon NX2
Capture NX 2 is a full-featured non-destructive photo editing program that provides photographers powerful tools to quickly and easily edit their photographs.åÊ

Color Control Points:åÊEnhancements for hue, brightness and saturation are as simple as placing a Color Control Point on your image, then adjusting the length of the sliders. For example, Color Control Points are remarkably convenient for changing the color of flowers for better effect against green surrounding foliage. Take a dull gray sky and add blue to change the mood of a captured scene.åÊ

NEW! Selection Control Points:åÊNow you can selectively edit photographs without the need to manually outline or mask the area for editing. Simply place a Selection Control Point anywhere on the photograph then choose from almost any adjustment such as D-Lighting, Unsharp Mask or Noise Reduction, while limiting the "reach" of that adjustment to just the selected area.åÊ

NEW! Auto-Retouch Brush:åÊCapture NX 2 adds an automatic retouch tool to its image editing toolbox allowing users to seamlessly remove blemishes, dust and other distracting elements from photographs while maintaining the integrity of the image.åÊ

NEW! Shadow/Highlight Adjustment:åÊWith just a simple slider adjustment you can easily open up shadows or recover blown-out highlights. Highlight recovery is most effective for RAW (NEF) files however it will work with JPEG and TIFF files as well.

The Nikon NX2 is commonly used for Presentations, Professional quality and more.The Nikon NX2 is most used by customers who consider themselves to be a Budget shopper, Quality oriented among others.The Nikon NX2 is popular because customers like the following qualities of the Nikon NX2: Accurate colors, Easy to collaborate across programs, Easy to customize, Easy to navigate and Versatile.
åÊ
Nikon NX2 Features
Customized Workspaces
Improved Toolbar function and layout
Improved Edit List functionality
Newly designed image browser featuring a Favorites Folder
Improved Image Resolution adjustments
Color Control Points (improved operation)
Black/White/Neutral Control Points (improved layout)
Color management control with Soft Proofing
Color Aberration Control, D-Lighting (High Speed/High Quality), Image Dust Off, Vignette Control and Fisheye-to-Rectilinear Image Transformation
Noise Reduction:åÊglobal or selective adjustments
Distortion Control - reduces pincushion and barrel distortion effects
Color Booster
Color Balance
Contrast/Brightness
Saturation/Warmth
Photo Enhance (for toning, sepia, black and white)
Levels/Curves Editor, LCH Editor, Auto Levels
Unsharp Mask, Gaussian Blur, High Pass Filter
Add Grain/Noise
Contrast:åÊColor Range
Colorize
Black-and-White Conversion
Straighten and Crop Tools
Full support for Picture Control (camera and software-based function)
Capture NX 2 provides the highest quality RAW (NEF) conversions from your Nikon camera and fully integrates with all Nikon software including Camera Control Pro 2, Image Authentication Software, Transfer and ViewNX
---
Share this Product