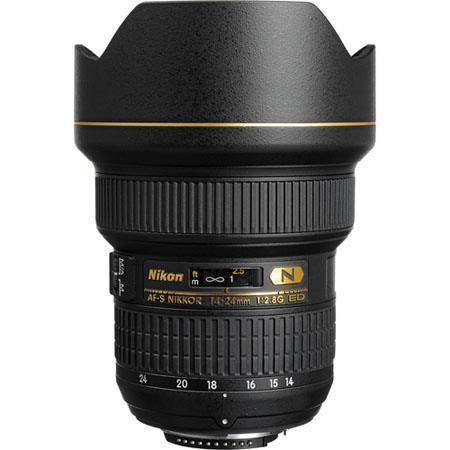 NIKON
Nikon 14-24mm f/2.8G ED-IF AF-S Nikkor lens
---
The Nikon 14-24mm f/2.8G ED-IF AF-S Zoom Nikkor is an fast ultrawide zoom lens for Nikon DSLR cameras. Designed for both Fx and Dx-format (full-frame and APS sensor) Nikon cameras, this award-winning lens is designed especially for professional photographers. It is rugged, has a consistent f/2.8 wide aperture, and is optically enhanced for the best photos possible using cameras such as the Nikon D810 and Nikon D7200. It has a quiet autofocus mechanism that's optimized for HD Video recording.
What you should know about this lens:
• Optically optimized: The Nikon 14-24 is optimized for edge-to-edge sharpness thanks to two ED (Extra-low Dispersion) and PGM aspherical elements, which control chromatic aberrations and improve sharpness and contrast at all apertures. Nano Crystal coating reduces flare and contrast.
• Fantastic focus: The internal focusing mechanism can focus as close as 10.8 inches at 24mm. The Silent Wave Motor (SWM) is virtually silent, a benefit for videographers, and ultra-fast.
• Rugged build: The lens is sealed against dust and moisture
The Nikon 14-24mm is commonly used for Architecture, General purpose, Landscape/scenery, Landscape photography, Low light, Night photography, Special effects, Sports/action, Weddings, Wildlife photos and more.The Nikon 14-24mm is most used by customers who consider themselves to be a Enthusiast, Photo enthusiast, Professional, Pro photographer, Semi-professional, Semi-pro photographer among others.The Nikon 14-24mm is popular because customers like the following qualities of the Nikon 14-24mm: Consistent output, Durable, Easily interchangeable, Fast / accurate auto-focus, Nice bokeh, Rugged and Strong construction
---
Share this Product
---
More from this collection