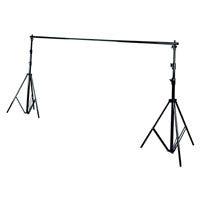 LIGHTPRO
LightPro Background Stand/Support Kit Large
---
The background support system is a neccessity if you wish to start shooting studio quality photos. However, it's a really simple system to set up and use, and coupled with background material, makes taking professionals looking photos a breeze.
2 x 3.1m 3-section spring loaded stands

1 x 3.6m 4-section cross bar
1 x Carry Case included for storage and travel
The Background Support System uses two spring loaded 3.1m stands. These stands may double as light stands if you purchase a spigot. It also uses a four-section cross bar that can extend to 365cm using all four sections or 270cm using only three or 180cm using only two bars. This system also allows for mounting a second crossbar and background.

---
Share this Product
---
More from this collection