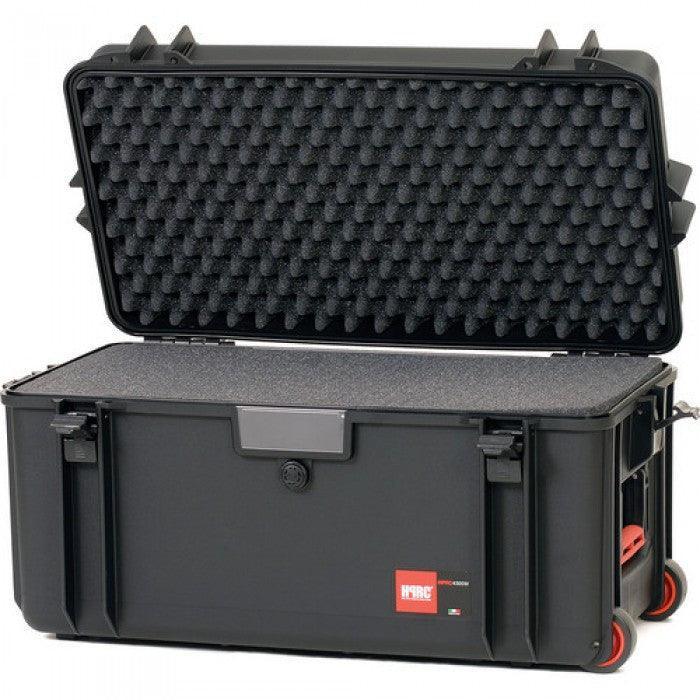 HPRC
HPRC 4300CW Wheeled Hard Case With Cubed Foam
---
Air, Water, Crushproof / Unbreakable
Meets ATA 300 Specifications
Hard Resin Shell
Built-in Smooth Rolling Wheels
Interior Neoprene O-Rings
Central Carry Handle
Four Opening Latches
Air Pressure Release Valve
4300CW Wheeled Hard Case with Cubed Foamfrom HPRC (High Pressure Resin Cases) is an ATA 300 rated case that is meant to hold your audio, video and photo gear in safety. This case comes with cubed foam that enables you to create individual pockets for your valuable gear. The virtually unbreakable hard resin composition is supported on the inside by a neoprene O-ring that keeps it both air and waterproof. The addition of durable aluminum enhances the overall strength of the case. This combination of materials makes for a lighter case that translates into easier portage and lower shipping costs. The case also comes with smooth-gliding wheels.
Due to its rugged construction, it can withstand the rigors of travel and impact. It's also able to handle gross temperature swings making it perfect for the pro who's always on the go. The corners have been reinforced to withstand bumps and the inevitable contact experienced during travel.
The case is transported by soft grip, rigid handles. Special attention has been given to the padded handles since this is a point of constant stress on the case. The handles are designed to be comfortable as well as making the case easier to roll along.
DETAILS:
| | |
| --- | --- |
| Material | TTX01, PA66, SEBS, PA66GF30, ALU, Stainless Steel Interior: Neoprene O-ring; Cubed foam Reinforced hinges and corners |
| Interior | Cubed Foam |
| Type of Closure | Double-hinged locking system |
| Exterior Dimensions | 27.2 x 14.1 x 15.0" (69.1 x 35.8 x 38.1 cm) |
| Interior Dimensions | 23.0 x 11.8 x 12.6" (58.4 x 30.0 x 32.0 cm) |
| Carrying/Transport Options | Built-in wheels Padded carry handles Retractable tow handle |
| Weight | 19.3 lb (8.8 kg) |
---
Share this Product