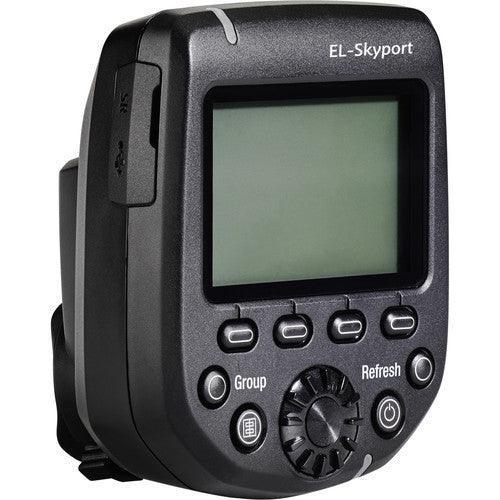 ELINCHROM
EL-SKYPORT TRANSMITTER PLUS HS for NIKON
---
With the EL-Skyport Plus HS Transmitter Elinchrom introduced a game-changing wireless solution that's compatible with three generations of transceivers and flash heads and offers Hi-Sync flash sync speeds up to 1/8000 sec.
The 20-channel transmitter is immediately recognizable by its large LCD screen that displays every light in your setup. The Skyport Plus HS will control the modeling light and flash intensity of BRX, D-Lite RX, ELC Pro HD, and ELB flash heads as well as the EL-Skyport Transceiver RX for the Style RX, Digital RX, and Ranger RX systems. Operating on the 2.4 GHz frequency, it has an enhanced wireless range too, triggering and controlling your flash heads at a distance of 196' indoors and 656' outdoors.
One of the transceivers most exciting features is Hi-Sync technology that lets you use shutter speeds up to 1/8000 of a second, far shorter than your camera's standard sync speed. Whether you use it to overpower the sun, freeze action, darken backgrounds, or select wider apertures, Hi-Sync opens up a new realm of exposure possibilities. You can even fine tune the transmitter's trigger signal with ODS (Over Drive Sync) for optimal exposures at high shutter speeds.
The EL-Skyport Transmitter Plus HS runs on AA batteries and has a future-proofing mini USB connection for firmware updates.
Visual Feedback Interface

The large LCD display of the Skyport HS features two-way control via a Visual Feedback Interface that lets you see the exact power of every light in your setup right on the transmitter. Users control each light's power level and modeling lamp setting directly from the Skyport transmitter, which instantly shows the updated power settings
Hi-Sync Technology

Go beyond the X-Sync of your camera. Photographers can simply switch to Hi-Sync mode and access sync speeds up to 1/8000s to freeze motion, overpower the sun, darken backgrounds, or use a wider aperture. The new ODS (Over Drive Sync) enables users to fine tune the Skyport plus HS transmitter's trigger signal to optimize exposure at high shutter speeds while gaining up to two more f-stops of light
Impressive Wireless Range

The Skyport HS has 20 frequency channels that can be used for either Normal or Speed mode, and a wireless range of 656' outdoors and 196' indoors. It also features an integrated AF Illuminator for faster focusing and a mini USB socket for firmware updates. Users can instantly distinguish what sync mode they are in since the backlit display glows green for normal sync mode, and red for speed sync mode.
Compatibility

The Skyport HS represents a seamless extension of the EL-Skyport family since it is also compatible with the three previous generations of flash units including the EL- Skyport Transceiver RX module for Style RX, Digital RX, and Ranger RX systems and the integrated EL-Skyport modules for the BRX, D-Lite RX, ELC Pro HD, and ELB series. The Skyport HS adds synchronization capability and two-way control functionality to all Elinchrom lights with EL-Skyport capability.
LCD Display

The LCD display shows each strobe unit's power settings and allows for full control of all strobes right on top of the Skyport Plus HS. The individual strobes show up automatically on the screen, and you can adjust the settings on top of the transceiver or on the strobe itself. You can see and control up to 10 different EL strobes with the HS transmitter.
AF Assist

The Skyport Plus HS also includes an autofocus assist feature to help cameras focus in low light situations. This avoids using the flash unit's modeling light which drains battery power
---
Share this Product
---
More from this collection