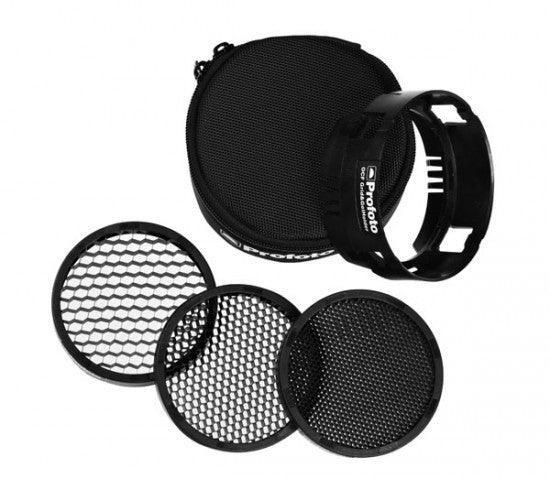 Profoto
Profoto OCF GRID KIT
---
The OCF Grid Kit is a small and super portable kit consisting of a holder and three different honeycomb grids.
Attach any of the three grids in front of the off-camera flash to reduce its light spread to either 10å¡, 20å¡ or 30å¡. This gives you a direct, circular shape of light that can be used for many applications, such as accent or hair light, intriguing background effects or simply for controlling stray light.
The grids are easily attached to off-camera flash in a matter of seconds. Each grid can also be used together with the OCF Snoot and the OCF Barndoor, thanks to a unique stacking system.
Controls light beam angle.
Compact, lightweight and easy to use.
Can be used together with OCF Snoot and OCF Barndoor.
Includes 10/20/30å¡ grids, grid holder and soft bag.
Integrated gel clips allow you to add color gels for color corrections or creative lighting effects.
Attention: this product may only be used with Profoto Off-Camera Flashes that has a LED modeling light (B1 & B2). Should not be used with standard heads or monolights.
---
Share this Product
---
More from this collection